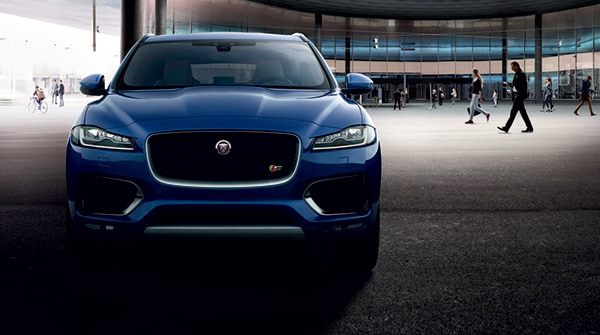 When the 2019 Jaguar F-PACE hits the showroom floor, drivers will be flocking to Jaguar Albany to see it for themselves. Jaguars crossover SUV delivers style and performance in a beautifully wrapped package. The F-PACE offers an array of standard features which will get into below, so you better reserve your spot in line to be one of the first to test drive the 2019 F-PACE.
Performance
For 2019, the F-PACE will continue to home a turbocharged inline-4 engine for its base model. This engine makes 247 horsepower and 269 pound-feet of torque. For customers who are looking for a little more power in their new F-PACE, there are two other engine option for the 2019 F-PACE. The first of the two is a supercharged V-6 engine, packing 380 horsepower. You can also get the turbocharged diesel 4-cylinder engine, making 180 horsepower and 318 lb-ft of torque.
If you are in the market for a speedy option, the SVR version of the F-PACE is the one for you. The SVR is built out with a 5.0-liter supercharged V-8 engine, powering the F-PACE with 550 horsepower and a top speed of 176 mph.
The base F-PACE model comes paired to the standard 8-speed automatic transmission, achieving an EPA estimated 22 mpg city, 27 mpg highway, and 24 mpg combined. If you are interested in the supercharged V-6 model, your F-PACE will have a fuel efficiency of 18 mpg city, 23 mpg highway, and 20 mpg combined according to the EPA. The diesel option will get you and EPA assessed 26 mpg city, 33 mpg highway, and 29 mpg combined, the best option for those with fuel efficiency at the top of their list.
Features & Technology
The Jaguar F-PACE offers a great package of standard features for 2019. The F-PACE 25t base trim comes standard with a top of the line 10.0 inch touchscreen, Jaguar's InControl infotainment system, active safety features, Bluetooth connectivity, 18-inch wheels, panoramic glass roof, Meridian sound system, and synthetic leather upholstery. The F-PACE also comes with an excellent standard warranty, giving drivers peace of mind with their F-PACE purchase.
Safety
For 2019, Jaguar has made many safety features standard for the F-PACE model. The standard safety features include automatic emergency braking, lane keep assist, driver attention monitoring, and parking distance sensors. There are additional safety options for adaptive cruise control with steering assist, helping to keep the vehicle centered in the lane and giving drivers updated traffic sign recognition.
The 2019 Jaguar F-PACE truly offers something for everyone. Give us a call to set up your test drive and learn first-hand why the new Jaguar F-PACE is better than ever.
Pricing
Starts at $44,600 MSRP