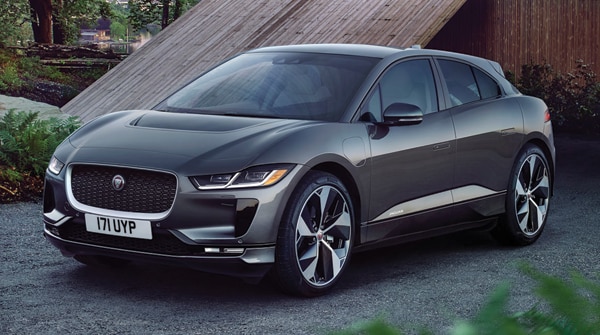 The all-new 2019 Jaguar I-Pace launches Jaguar into the electric car market and will bring competition into the electric car market. This cutting-edge crossover from Jaguar has the style, features, performance, and range to offer customers a reliable, fun and economic ride. Jaguar engineers outdid themselves with this state of the art electric crossover. If you're in the market for an electric vehicle that offers a fun ride and impressive technology then come visit us at Jaguar Albany right off route 5.

Interior
All models of the 2019 I-Pace offer the handcrafted touches that one expects in a luxury vehicle. The cabin of the I-Pace offers an escape from the outside world with its sophisticated motor encapsulation that reduces sound, while the exterior design minimizes wind noise. The I-Pace S Model comes standard with LUXTEC 8-way powered front seats, a 10" and 5.5" dual high-definition touchscreen, view information on one or simultaneously interact with other features on the other. Also standard on the I-Pace S Model is the Meridian Sound System which offers a concert-like experience. The I-Pace SE Model offers the same interior features as the S Model but boats 10-way leather seats for an even more luxurious ride. The HSE Model comes standard with the above features as well as 18-way heated and cooling, memory front seats and heated rear seats with high-quality leather.
Exterior
The 2019 Jaguar I-Pace S Model comes standard with 18" alloy wheels, LED headlights, as well as advanced safety features including emergency braking, lane keep assist, rear camera, park assist, 360-degree parking aid, clear exit monitor, and rear traffic monitor. The Jaguar 2019
I-Pace SE Model comes with advanced safety features standard on the S Model, 20" alloy wheels, premium led headlights, and the Drive Package which includes, Adaptive Cruise Control with stop and go, high-speed emergency braking, and blind spot assist. The 2019 Jaguar I-Pace HSE Model boasts top of the line features such as 20" alloy wheels with a Diamond Turned finish, premium LED highlights, Driver Assist Package that includes, Adaptive Cruise Control with Steering Assist, 360-degree surround camera, high-speed emergency braking, and blind spot assist.
Technology
The Jaguar Touch Pro Duo infotainment system consists of a 10" touchscreen integrated into the dashboard and a lower 5.5" touchscreen with multi-function dynamic dials. The I-Pace remote app allows you to stay updated and interact with key vehicle information including available range, charging status, charge rate, and plug state. The I-Pace Navigation Pro details your range, factoring in various topologies and speed limits. The head-up display presents key vehicle data such as speed and directions on the windshield. The 12.3" interactive driver display provides relevant driving information, including navigation, with 3D mapping.
Performance
Jaguar has always created cars that excite drivers, the 2019 Jaguar I-Pace brings all of that excitement with an economical electric vehicle. The powertrain of the new I-Pace provides 394 HP and 512 lb-ft of usable instant torque. With built-in AWD traction, the I-Pace goes 0-60 mph in 4.5 seconds. The 2019 I-Pace is equipped with a 90-kWh battery designed for longevity. The Active Air Suspension of the 2019 I-Pace automatically lowers the car by 0.4 inches when traveling at speeds over 65 mph. The I-Pace is designed to deliver performance on all surfaces and in all types of weather. Power and torque response is immediate and the electric motors adapt to the driver, conditions and available grip.
Pricing:
Starting at $69,500 MSRP