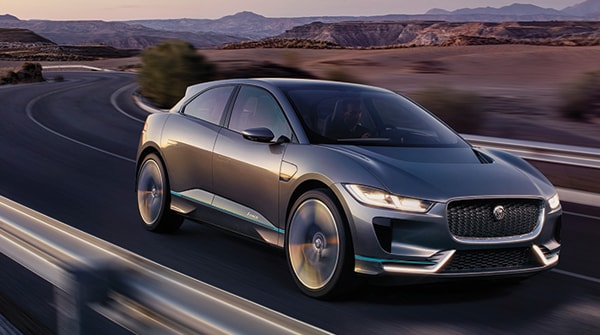 It was only a matter of time before Jaguar got in on the electric vehicle game, and now we've finally seen a preview of what the luxury automaker has in the pipeline. It was well worth the wait, with new and advanced technology, and styling to match.
You can talk to your Jaguar Albany dealer today to find out how to reserve your model of the all-new 2018 Jaguar I-PACE Concept. First, though, check out our sneak peek to see all the features and new tech you can expect from this groundbreaking crossover EV:
Performance and Technology
This is no ordinary vehicle, so forget everything you think you know about electric-only vehicles. The I- PACE Concept has a set of two permanent-magnet motors integrated into the front and rear axles, making a net 400 horsepower and 516 lb-ft of torque. The motors are powered by an advanced 90 kWh lithium-ion battery. The I-PACE goes from zero to 60 in 4 seconds and has incredible agility and stability thanks to standard all-wheel drive.
The I-PACE Concept has an estimated electric-only range of about 220 miles on a single charge. Additionally, you can charge the battery up to 80 percent in just 90 minutes using a 50 kWh DC rapid charger. Plus, most states – including New York – offer tax credits for zero emissions vehicles, giving you a bonus come April.
Styling
While the I-PACE Concept is a crossover SUV, it's so sleek it appears
to belong in a class of its own. "The challenge was to design and build an electric vehicle that's distinctively and unmistakably a Jaguar – a vehicle that will demonstrate that an electric vehicle can be a driver's car and excite the senses," said Ian Callum, Director of Design.
With precision curves, angles, and creases, it's unlike anything else on the market, including in the luxury segment. It has a sloping roofline, aerodynamic hood scoop, and narrow LED headlamps framing a rectangular grille. Stand-out air ducts and flush door handles give it a futuristic feel that isn't cartoony – just dreamy. The rear window elegantly sweeps back and has hydrophobic coating that makes rear window wipers irrelevant. Finished off with a composite rear spoiler, the I-PACE Concept is a work of art come to life.
Interior
You can comfortably seat five passengers in the I-PACE Concept, and seating stance is lower than you might expect out of a utility vehicle. But it's the materials that truly break barriers, with Windsor leather seating surfaces, open-pore walnut veneer, and aluminum and microsuede accents throughout. A floating center console and panoramic roof further bolster the futuristic feel of the I-PACE Concept. If this is an indicator of things to come, we're ready, and you can be too by getting in touch today to reserve your model.