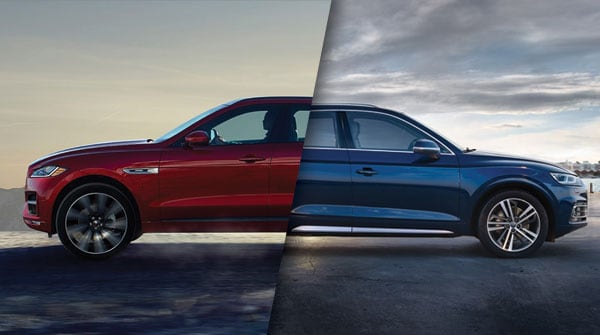 When Jaguar introduced the F-PACE luxury crossover last year, they upped the ante for all other players in the game. Its unmistakable Jaguar styling, powerful lineup of engines, and next-generation technology made it an instant favorite in Albany and beyond.
Still, comparison shopping is always smart, so for New Yorkers weighing the differences between the 2018 Jaguar F-PACE and the 2018 Audi Q5, we've made a one-to-one comparison.
See how these two luxury SUVs stack up below:
Performance and Fuel Economy
Jaguar F-PACE
The 2018 F-PACE comes in six trims – including the base, Premium, Prestige, Portfolio, R-Sport, and S – and has four engine options. The base engine is a 2.0-liter turbocharged inline-4 that makes 247 horsepower, while the next level up is the same engine boosted to make 296 horsepower (available on the Premium, Prestige, R-Sport, and Portfolio trims). There's also a turbodiesel option that churns out 180 horsepower and 318 lb-ft of torque. The F-PACE S trim features a 3.0-liter V6 with all-wheel drive, making 380 horsepower. All models come standard with all-wheel drive and have an 8-speed automatic transmission.
The turbocharged base engine has a fuel economy of up to 27 MPG, while the diesel gets an impressive 33 MPG. The supercharged V6 engine gets up to 23 MPG.
Audi Q5
The 2018 Q5 has just one engine option: a 2.0-liter turbocharged inline-4 that makes 252 horsepower and 273 lb-ft of torque, mated to a 7-speed dual-clutch automatic transmission. The Audi ute also has standard all-wheel drive. It's a fine engine, but the Q5 offers considerably fewer options and less versatility when compared to the F-PACE.
According to EPA estimates, the Audi Q5 gets up to 23 MPG city and 27 MPG highway.
Interior and Tech
Jaguar F-PACE
The 2018 F-PACE comes standard with Luxtex seating, with the option for grained leather or perforated Windsor leather seating. Also, it features standard 10x10-way adjustable front seats, a 40/20/40 split-folding second row, two-zone climate control, JaguarSense overhead lighting, and auto-dimming interior mirrors. Upper trims feature 20x20-way adjustable front seats, heated and cooled front seats, three-stage heated front and rear seats, electronically reclining rear seats, a heated windshield, and four-zone climate control with air quality sensor.
Standard tech and entertainment include the Jaguar Touch infotainment system with 8-inch display, a Meridian sound system, HD Radio, front media interface, Bluetooth tech, and Protect and Remote telematics systems. Premium features include Touch Pro 10" infotainment, voice control, Sirius XM Radio, Navigation Pro with drive-based mapping, and a 4G Wi-Fi hotspot for up to eight devices.
Audi Q5
The Q5 has four trims: Premium, Premium Plus, Prestige, and SQ5. It comes standard with leather seating and does not offer a non-leather alternative, which is a drawback in areas like Albany that have cold winters and hot summers. You'll have to upgrade with the Cold or Warm weather packages or an upper trim to add heated or ventilated seating.
Otherwise, the Q5 offers features comparable to the F-PACE, except when you consider the quality of infotainment systems. The Jaguar InControl Touch Pro system is regarded as the gold standard, with a large high-def screen and next-level navigation. Meanwhile, Audi's MMI system is reported to be fast but has a complex interface that may be distracting on the road. Plus, the F-PACE has an additional 7 cubic feet of cargo space in the rear.
Pricing
Jaguar F-PACE
Starting at $42,065 MSRP
Audi Q5
Starting at $41,500 MSRP
Category: Comparison
Tags: 2018 F-PACE, Audi, SUV, comparison