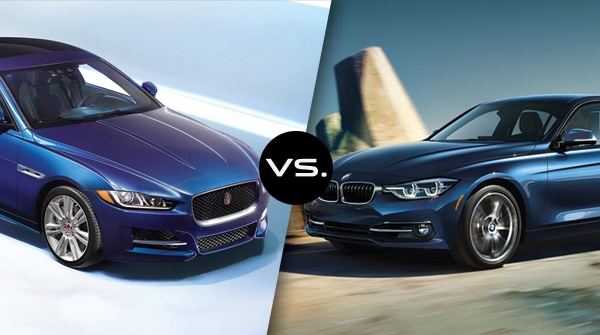 At first glance, there's not much to differentiate the 2017 Jaguar XE and the BMW 3 Series. But get behind the wheel and look under the hood, and you'll see differences that are likely to sway you toward Jaguar's all-new XE, an inspired luxury sedan that's been crafted with performance in mind.
Read on to see our side-by-side comparison of the 2017 Jaguar vs the BMW 3 Series:
FeaturesJaguar XE
The base model XE comes equipped with cruise control, remote engine start, steering wheel mounted controls, a trip computer, rain-sensing wipers, anti-theft system, leather steering wheel and electrochromic rear mirror. For entertainment, the all-new XE has HD radio, smartphone connectivity and hands-free technology.
Upper trim models come with a backup camera, universal garage door opener, a premium sound system and navigation system. Drivers may also enjoy heated or cooled leather seats and a sun or moon roof. Additionally, the 10.5-inch touch screen is perfect for easy viewing when on the road. Adaptive cruise control and lane keep assist make road trips a breeze and help prevent incidents. For those who have trouble in tight lots, the XE also comes equipped with parking assist.
BMW 3 Series
The 3 Series comes with a 9-speaker audio system, push-button start, Bluetooth technologies, USB port, automatic climate control, a 6.5-inch display and BMW's infotainment system. Add-ons include adaptive cruise control, navigation, satellite radio, moonroof, rear- and side-view cameras, parking sensors, a premium audio system and lane departure warning.
Engine and Body
Jaguar XE
The XE features a smaller body than past models, but still maintains ample space and smooth, athletic handling. With an aluminum frame, double wishbone front suspension and multi-link rear suspension, the XE is as agile as a luxury sedan gets
It has a 2 liter, 4-cylinder engine with 180 horsepower @ 4,000 RPM and 8-speed automatic transmission.

BMW 3 Series
The BMW 3 Series also has a 2 liter, 4-cylinder engine with180 horsepower @ 5,000 RPM. It has a strut front suspension and multi-link rear suspension.

Safety Jaguar XE
Jaguar has built in the latest in safety features in the XE. It comes with airbags, 4-wheel anti-lock brakes, four-wheel disc brakes, electronic stability control, brake assist, child safety locks and integrated turn signal mirrors. Drivers may also opt for blind spot monitors and auto-leveling headlamps. It also comes with surround system cameras so you can always see your surroundings, and an intelligent speed limiter to detect when you need to slow down.

BMW 3 Series
Drivers will get standard airbags, safety belts, child seat anchors, antilock brakes, electronic stability control and brake assist. It does come with auto-leveling headlamps, lane departure warning and night vision.