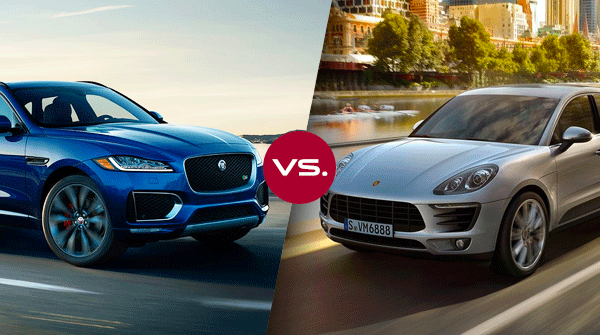 The anxiously awaited
2017 Jaguar F-PACE
is everything fans of the British automaker have been waiting for, but in the luxury market, competition is always stiff. Rivals such as the Porsche Macan offer similar performance and features, giving Jaguar a high bar to jump.
Well, in typical Jaguar fashion, jump it does. The F-Pace eclipses the Macan in a few ways that may make all the difference to you.
Here's our side-by-side comparison:
Safety and Reliability F-PACE
Jaguar is ever committed to keeping its drivers safe. The 2017 F-Pace is equipped with the most modern and technologically advanced safety features available, including dual-stage driver and passenger side airbags, electronic stability control, roll prevention, side impact beams, Emergency SOS, airbag occupancy sensors, and tire pressure monitoring. It also comes with the option for rearview camera, parking sensors, lane departure warning, blind spot monitor, forward collision warning, and automatic braking.
Jaguar backs the F-Pace with an excellent 5-year, 60,000-mile warranty – better than any other luxury brand offers.

Macan
The Macan similarly features some good safety systems to keep drivers safe, but no more than what is available on the F-Pace. Considering the higher price tag (see below), drivers might expect to see more in safety from the Macan.
There's not much reliability data on the Macan, which suggests it may be little more than a pretty face. Porsche offers just a 4-year, 50,000-mile warranty.
Styling F-PACE
The
all-new F-PACE
has a presence on the road that's unparalleled, with a bold yet restrained design that grabs attention without being flashy. It has 18-inch wheels, deep tinted glass, galvanized steel and aluminum panels, a black grille with chrome surround, sunroof, and halogen headlamps.
Macan
The 2017 Macan has a streamlined body, and its appeal is a matter of personal preference. For those who like the signature Porsche grasshopper-eye headlamps, there is some appeal in the Macan's styling. It features 18-inch wheels, tinted windows, a lip spoiler, high-intensity headlamps, and a black grille.
InteriorF-PACE
The Jaguar SUV has 10-way power bucket seats up front, piano black and aluminum trim accents and door inserts, and 40-20-40 folding rear seats. For your entertainment, it also has a standard 380-watt, 11-speaker sound system with subwoofer and dynamic volume control, HD radio, intuitive LCD interface, Bluetooth and smartphone connectivity.
Macan
Porsche equipped the Macan with 8-way power bucket seats in the front, black and metallic-look accents, and leatherette door trim, but unfortunately dropped the ball on providing a configurable rear. As a result, cargo space is limited to 17 cubic feet in the back, compared to the F Pace's 33.5 cubic feet. Entertainment features include an 8-speaker audio system, CD and DVD drive, Bluetooth and smartphone connectivity, and HD radio.
Fuel Efficiency F-PACE
2-liter, 4-cylinder automatic diesel: 26 MPG city / 33 MPG highway / 29 MPG combined
3-liter, 6-cylinder automatic premium gasoline: 18 MPG city / 23 MPG highway / 20 MPG combined
Macan
2-liter, 4-cylinder automatic turbo: 20 MPC city / 25 MPG highway / 22 MPG combined
PricingF-PACE
Starting at $41,985 MSRP

Macan
Starting at $48,550 MSRP